General Information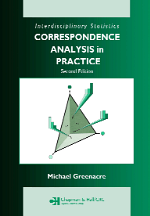 Quote from the cover:
"Drawing on the author's thirty-three years of experience in social and environmental research, Correspondence Analysis in Practice, Second Edition shows how the versatile method of correspondence analysis (CA) can be used for data visualization in a wide variety of situations. CA and its variants, multiple CA and joint CA, translate two-way and multi-way tables into more readable graphical forms - ideal for applications in the social, environmental and health sciences; marketing; economics; and more".
Features
Completely revised, up-to-date edition that uses a didactic format, with extensive marginal notes, informative figure and table captions, and end-of-chapter summaries.
Five new chapters on transition and regression relationships, stacked tables, subset correspondence analysis, analysis of square tables, and canonical correspondence analysis.
Nontechnical presentation of CA, gathering mathematical aspects in a theoretical appendix.
Numerous examples and case studies from the social and environmental sciences, substantially more than the first edition.
New computational appendix that documents the ca package for R developed by the author and provides the R commands for most of the analyses in the book, making it easy for readers to reproduce the analyses.
Supporting website with data sets, R scripts, and packages for downloading
About the author
Michael Greenacre is Professor of Statistics at the Universitat Pompeu Fabra, Barcelona, Spain. He has authored and co-edited several books and journal articles on correspondence analysis and data visualization, and has given short courses in fifteen countries to marketing professionals, sociologists, and environmental scientists.
Further information
Download the Flyer (PDF, approx. 867 KB)
Errata