General Information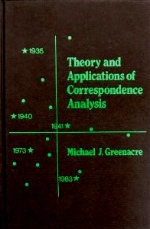 Theory and Applications of Correspondence Analysis, by Michael Greenacre (Academic Press, 1984), has been regarded as an "encyclopedic" treatment of correspondence analysis, and was one of the first books on this topic to be published in English. It has over 4500 citations listed in Google Scholar.

The book is out of print, the rights are back with the author, and a scanned copy has been made available here for free download.
Download
You can download a scanned version of "Theory and Application of Correspondence Analysis" here: PDF (15,5 MB).